Congratulations to Victor Castaneda
Congratulations to Victor Castaneda who won 1st at the Palomar Tres y Una 2021 Derby on Sunday against 440 pigeons, two minutes out front.
Winning Hen #4719
Victor's winning hen #4719 is a daughter out of our 2018 Karges 18 AU BBH. Her father was bred out of a hen from Marty Ladin that my partner Mark Karges purchased at Marty Ladin's home after his final Auction. She was bred from a cock from Pete Lorenz (Horemans) and a hen from Code 3 Lofts, Al Cunningham (Van Loons).  2018 KARGES 18's mother was bred from Katy 1612 Slate Cock(Jemal Hybrid) that was gifted to us.
Grandmother to 4719
The grandmother was bred down from a daughter of "Mauricio", 2004 Jemal 676 BBC AU Registered Elite Champion and 450 mile OA winner in the 395 Concourse; 6th AU National HOF; 1st CSRPO HOF; when mated to a daughter of hen that was given to Mark Karges by James Bodiford (Jemal Janssen) out of his Impact Hen that was 100% Jemal. "Mauricio" was bred from a Jemal Hen that Mauricio Jemal himself had crossed with the National Champions Jan Aardens picked out by Piet DeWeerd that were sent to Miguel Galas. So the cross of many top pigeons has come together and produced Champions. #4719 also placed 74th overall against 38,181 pigeons and 1158 lofts in the Metropolitan.
Sister to 4719
Her sister, last year, also placed 63rd overall against 45,000 pigeons in the Metropolitan. Tremendous results from your family of Champions. Our thanks, appreciation, and recognition go out to Craig and Mauricio Jemal for their super genetics.
Mark visited Victor Castenada at his home in California on October 28 2021 to pick up 2018 Karges 18 AU BBH on breeding loan so that she can be put back into the KARGES/SILVIO breeding program specifically being bred back her to her grandfather 2016 Katy 1612 Slate cock. Our thanks to Victor Castenada for allowing us to breed from her for several rounds and then return her to Victor. Youngsters will be bred for the Karges/Silvio breeding program as well as for Victor, Craig/Mauricio breeding programs.
Blue Bar Hen – 2019-Karges-902: Cousin to No.18
This is 2016 Katy Slate Cock with 2019 Karges 902 BBH. She is bred directly out of or "George" 5x National Long Distance record holder in 4 years. She is the cousin of 2018 Karges 18 BBH that produced two top pigeon's in Guadalajara in 2020 and again in 2021.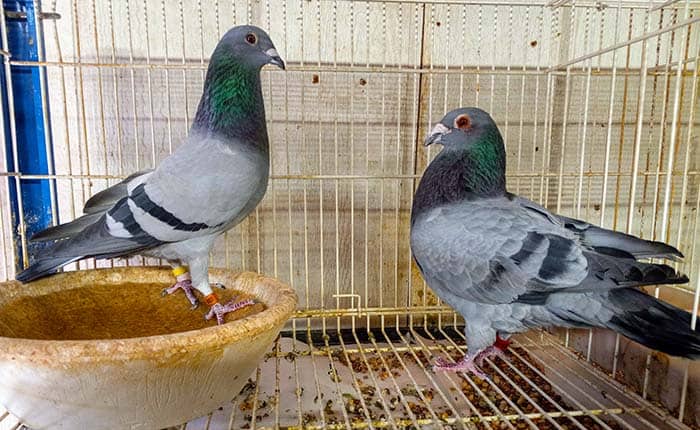 Blue Bar Cock – 2019-Karges-901: Cousin to No.18

Pictured below is 2019 Karges 901 BBC, who is a direct son of "George" who was 5x National Long Distance record pigeon. This super hen is 2018 Karges 18 IF BBH, who was the mother of 63rd/45,000p in 2020, and also the mother of 74th/38,141p in 2021. Both scored 1st place at their Futurity. Katy 1612 is her grandfather. And her father is a son from George crossed with a bird from Marty Ladin, Horeman/Van Loon.
We will be raising breeders for Victor, Silvio, Craig and myself. This breeding pair will be a great addition to all of our breeding programs. A full brother to the father of #18 was the best flyer in 2015 ybs for Mark Karges and won both of his last two long Auction races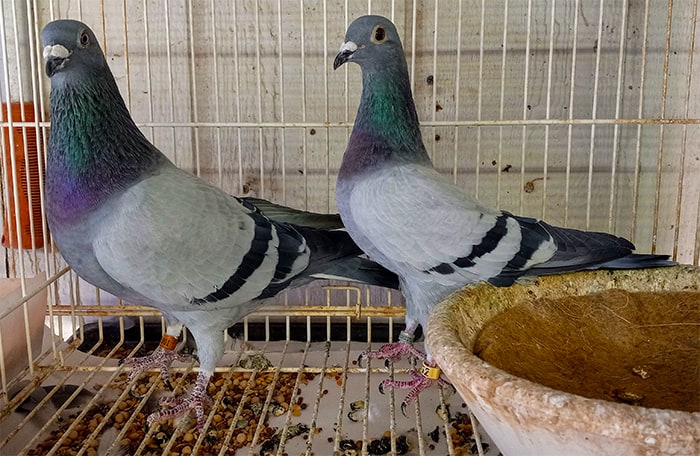 Derby UCDJ 4719 – Winning Genetics for Karges & Mattacchione
Congratulations to everyone involved in supplying the winning genetics for Victor Castenada that was judiciously blended by  the John Mark Karges /Silvio Mattacchione partnership.